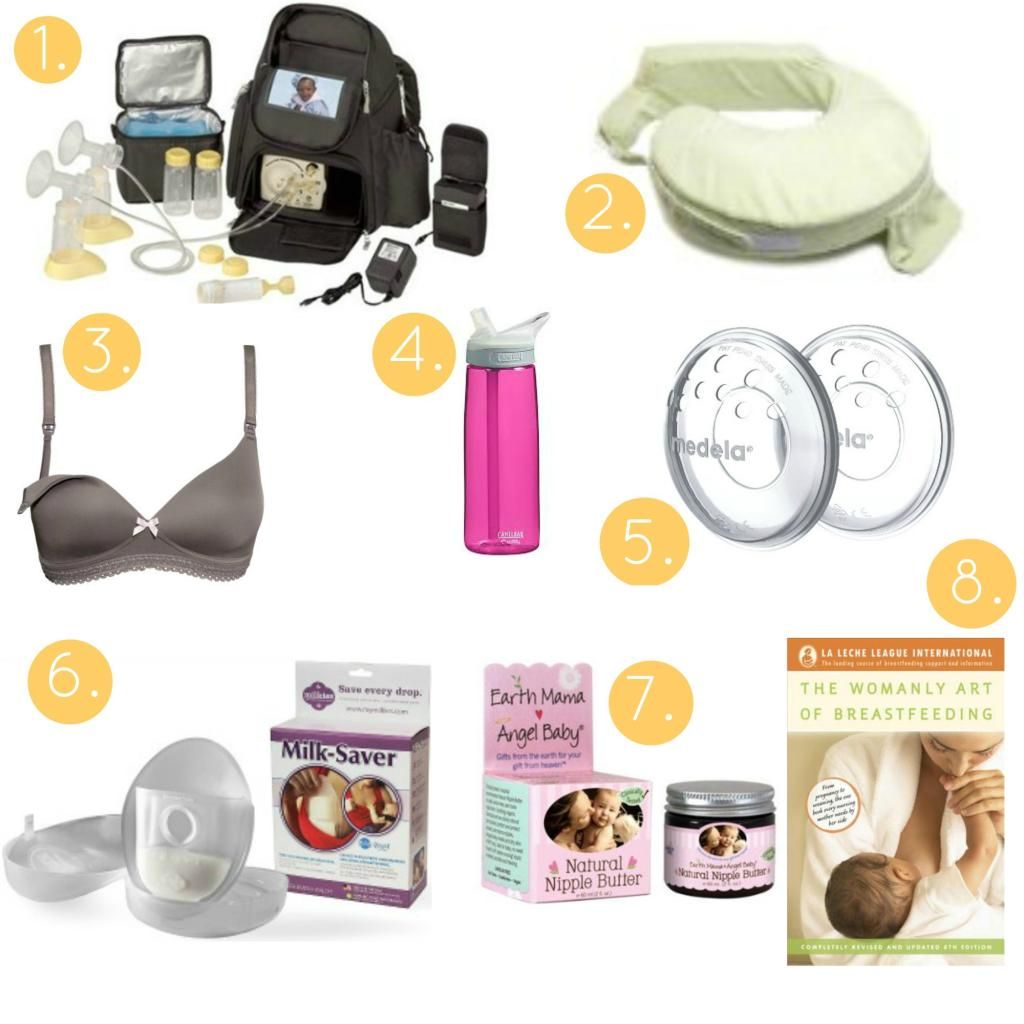 James is 8 months old now and that means we are 8 months deep in our breastfeeding relationship. I've compiled a little list of items I found extremely helpful and still find helpful as our breastfeeding relationship continues. These items in my opinion are must haves and can last longer than just the first few weeks. Lets start...
1.
Medela Style Advanced Breast Backpack
: For working and non working mamas I think a pump is essential. For working mamas of course your pump will become your bestie while you're at work. I know mine is. I originally was going to buy a less expensive pump, that didn't have a bag and was just basic. I'm so glad I waited til James was born to figure out what I really needed. After coming home from the hospital I rented the Medela Harmony hospital grade pump. Then I bought this bad boy. This is second to the Harmony only because in my eyes The Medela Harmony is like the mother of all pumps and the rest follow. This is the Medela Pump in Style Advanced backpack. This pump is also battery operated and comes with an adapter which makes pumping on the go the easiest thing! For non working mamas pumps can be very helpful in increasing milk supply or just giving you a break and letting dad take over a feeding.
2.
My Brest Friend
: I used a Boppy with Ardo but since I did a lot of bottle feeding it worked perfectly. In the hospital with James they had a my brest friend and I fell in love. I loved how secure it stayed on my stomach and how easily James nursed. In the beginning I wasn't sure how to hold James and with my brest friend I didn't need to worry, he was right at nipple level and latched must easier. The pillow stays right under your boobs. The cover comes with a little pouch where I would put my water and nipple cream or phone, just a little more convenience.
3.
Nursing Bra
: There are so many different types of nursing bras but if you plan on long term breast feeding nursing bras are so important. In the beginning I used
these
from H&M and I loved them. They were soft and my boobs were so engorged they were very comfortable. I have since moved on to
these
from Motherhood Maternity. They have a bit more support and better shape. I would say these are better if you plan on nursing longer than 3 months. I think it's important to take of our boobs, they're sure going through a lot right now!
4.
Camel Bak
: I'm a huge believer in water bottles even if you aren't nursing. Resuable water bottles are the easiest way to make sure you're getting enough water. You're just sipping and sipping and before you know it, you need a refill. Any kind of resuable water bottle is a MUST! I have a soft spot for camelbaks just because they've always worked great and every one of us in our house has their own.
5.
Nipple Shells
: I thought nipple would be enough if my nipples were sore but I had no idea what I was in for in the beginning. I had no idea how much nursing I'd be doing and what my nippled would be going through. Pumping didn't have the same effect on me. These softshells were amazing. I would wear them every moment I wasn't nursing and my nipples were really able to get a break. I think it's really important for your nipples because if your nipples hurt without a break it could definitely hurt your breastfeeding relationship, so these nipple time outs were crucial, best 14 bucks I spent!
6.
Milky Milk Savers
: I was so so excited to use these and was shocked I didn't leak very much this time around. I remember with Ardo I leaked ALL.THE.TIME. but with James it was different. I think because with Ardo I pumped mostly and with James I nursed mostly and then pumped any access I did a good job of keeping myself empty. These things are the very best invention! Saving your leaked milk instead of wasting it in nursing pads. Nursing pads are great but to be able to save our liquid gold and use it is the best!
I will be having a giveaway for milky milk savers and freezer storage, April 6, stay tuned!
7.
Nipple Butter/Cream
: I used this butter and although I didn't care for the smell I thought it worked great and helped to heal my cracked nipples. I also loved I didn't have to worry about washing it off before feeding James again.
8.
The Womanly Art of Breastfeeding
AKA THE BIBLE!: THIS BOOK WAS EVERYTHING TO ME, and I still refer back to it 8 months later whenever I have questions. I knew I wouldn't read 10 books so I wanted one good one I could refer back too. I asked my friend Laura and she highly recommended this book and she was right. This book slowly went through everything stage by stage, moment by moment. I appreciated all the side stories of different woman and what they've gone through. I'm the kind of person that likes to relate to people through similar situations. Breastfeeding was not easy for me but I'm so happy I stuck with it and 8 months later we're still going strong.