Jerry has been wanting to take Ardo to the movies. I've been hesitant because he's not a great TV watcher. I'm not complaining, although sometimes I will set him up with Yo Gabba Gabba or Jake and he watches for a little bit, while I'm doing something with James. Jerry had a lot of confidence in him tho so off we went to see
Big Hero 6
. We had a gift card so we figured if he hates it, at least we aren't spending cash. We asked Jerry's mom to watch James for us because I wasn't sure how he would do with the really loud noise. Jerry is big on Ardo having his own time with us...for me, I'm a second born child and I very strongly feel that Ardo had us all to himself and now it's sharing time. Although I did agree I didn't want the loud noise to scare James, so we left him with his Abues. I haven't been to the movies in a really long time. The last movie I saw in the theater was Horrible Bosses and now they're coming out with a second one so its been a few years. We went a little crazy at the concession stand because we went hungry...HUGE MISTAKE. We bought hot dogs and pretzels and nachos and red vines and large sodas and of course popcorn. We got to the movie about 15 minutes before previews. Previews started and Ardo was super excited. After the 6th preview I think he thought that was the movie because he said he was ready to go home. haha. When the movie did finally start Ardo did well, he paid attention and sat through most of it and only needed to be bribed with a little bit of popcorn. You know what the best part was? There we so many kids making noise and crying and talking really loud, no one seemed to notice each other. I love that. I wasn't the only one shushing my kid and I got no side eyes, what a relief. I'm really glad we took him. I think the highlight besides the movie itself was that the movie theater had a big Baymax in the lobby. Ardo FREAKED! He thought it was the real thing. He went right past the rope they had to separate us from Baymax and gave him a huge hug!
I love this smile he's been making lately for his pictures. It's so sweet!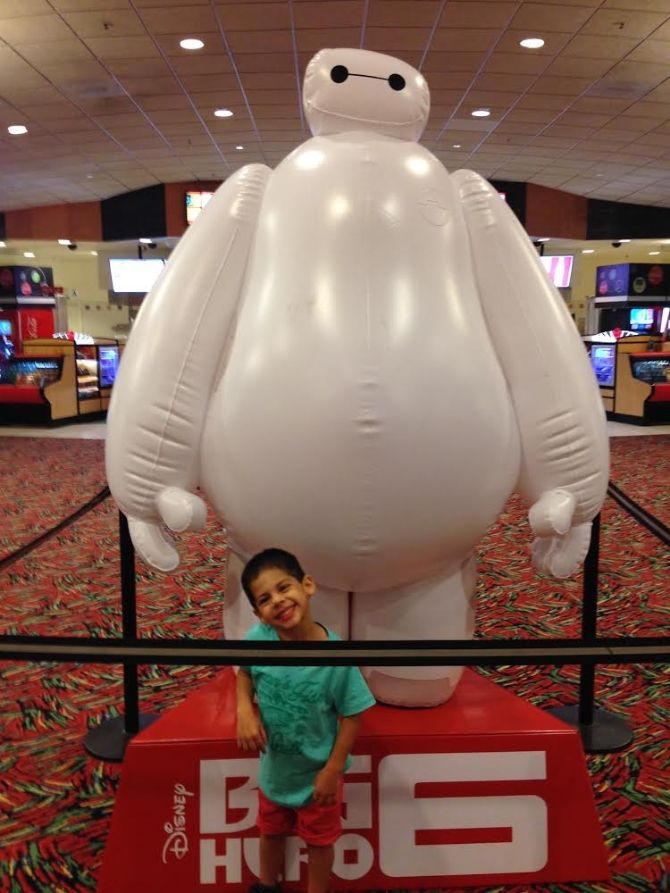 I got a picture with him too but I guess I put my make up on with my eyes closed cause my make up looks all kinds of weird. This picture is much much better!