I am breaking up my breastfeeding story because it's long and not something I wanted to rush into one ridiculously long post. Part 1 is here and now onto part 2.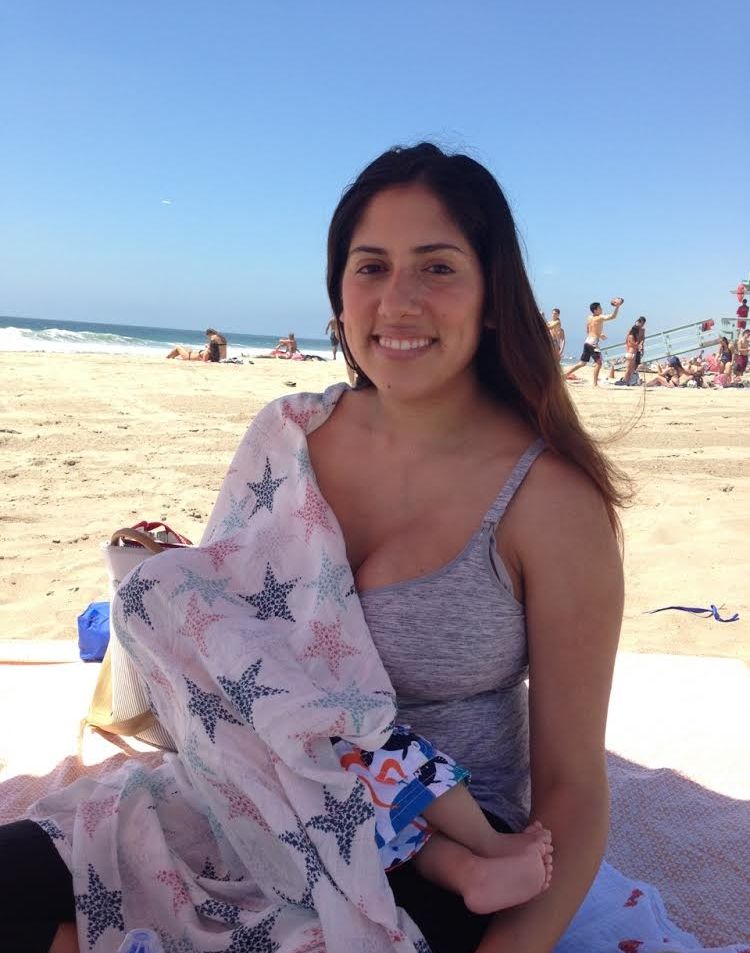 Once I got home, everything went to hell in a hand basket. James still latched and he was eating every 2-3 hours but I somehow lost all the confidence because I was home by myself (how odd my wonderful nurses didn't want to come with me!) I only stayed in the hospital one day after James was born so when we all finally came home, my body suddenly realized it had been on bedrest for 11 weeks with no rest and now my body was TIRED! Suddenly on one side, James' latch started to hurt, I could tell it was shallow, he was eating but I was still pumping after and then I started topping him off with breastmilk but that meant nursing session took 1-2 hours! I was crazy exhausted. Jerry didn't get his maternity leave til September so the next Monday, Ardo needed to go to school and I was freaking out. Thank goodness my mom helped me out by taking Ardo to school for a few weeks. I started feeling very overwhelmed and then my nipple cracked. As soon as it did, I called a lactation consultant and got help. I knew how this would go if I didn't get myself help and I definitely wanted to continue breastfeeding and I wanted to cut the pumping if I could. Jessica (my lactation consultant) was amazing! I loved her website because she specifically says, don't shower, don't clean, stay in bed if you want, I will come to you!
She reassured me that whether I had to pump or I could directly breastfeed, getting James fed WAS the most important thing. I guess I knew that, but to me the most important thing was breastfeeding him, so hearing out loud that breastfeeding WASN'T the most important thing, really put me at ease. Jessica helped me learn to properly latch James, and the importance of breastfeeding on both sides and then again on both sides, and then again! The hospital encouraged me to only breastfeed for 15 minutes. Jessica threw all those rules out and gave me a new set of rules. I felt so much better. Not only did I now have some direction, I had Jessica's phone number. She told me I could text her whenever I wanted, and I did. She was such a cheerleader for me. About a week later I wound up getting
mastisis
. I actually wasn't shocked, I was so stressed, my nipple had cracked and I didn't always offer James my breast multiple times to try and empty them. I didn't experience it with Ardo so I talked to Jessica and did the best I could. Thankfully for me, the fever only lasted one day and I didn't need meds, James ate and ate and I pumped and pumped to make sure I was getting completely emptied at each feeding. I am so happy I got help this time around for breastfeeding. I didn't want to give up, and I knew if I didn't get help, for sure I would give up. I know so many people do stop because it's so many things at once. You've had a new baby, you're exhausted, you're stressed and it starts becoming not worth all the stress. Even my lactation consultant said, if you start dreading and hating feedings, stop! I nurse James now, just laying in bed and him just eating away and I think about the first month, I'm so glad I kept at it. It's now going on 4 months and my milk supply is well established...a little too established (I have a bit of an oversupply) and James is getting his chubs.
With Ardo, I sorta kept him on a schedule with eating and sleeping. He ate every 2-3 hours for awhile but inbetween those 2-3 hours I really didn't offer him more. He gained weight slowly and I now I know that was probably part of the reason. Our Dr said he was fine but he could have stood to gain another pound or two. James is not having any problems gaining weight. That little guy eats whenever, wherever and however much. I only control his food if I bottle feed him but even then, I offer him a 3oz bulk feeding and then an ounce after that until he is full. So while our little journey has not been easy, I'm so happy to say James hasn't had any formula (a decision Jerry and I wanted early on), he's gaining really well and my love for lactation consultants is tenfold. :) The next part of this breastfeeding story is how I was able to pump and store 500 ounces of breastmilk!