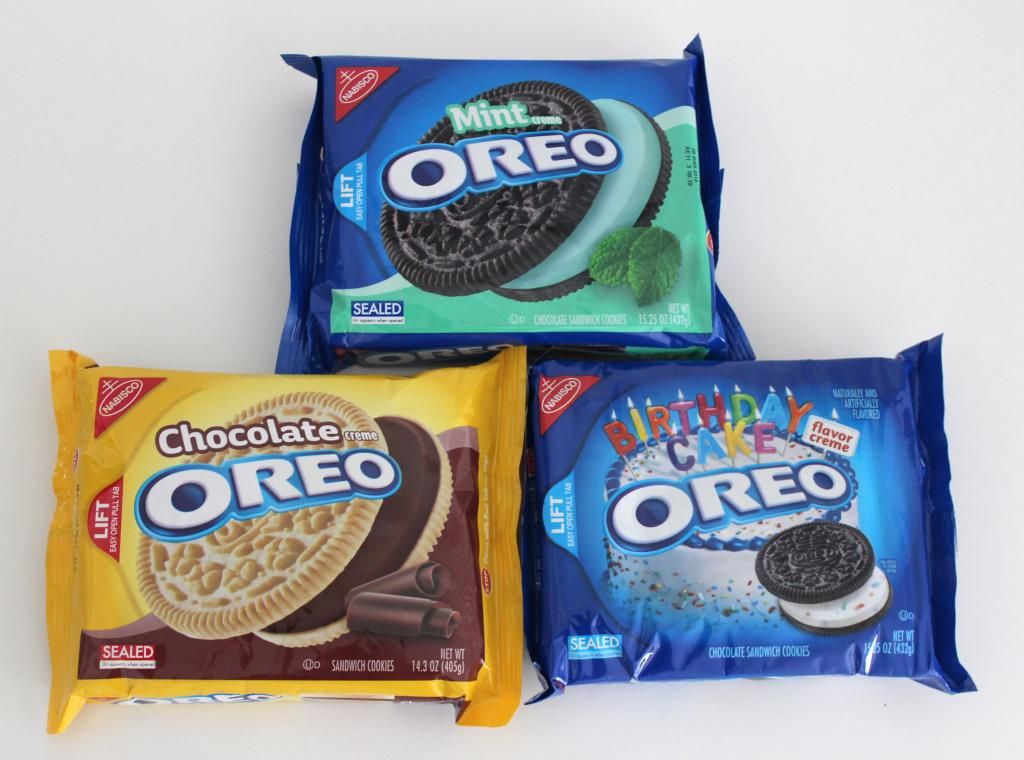 I'm taking a quick break from my pregnancy and James' update to bring you this post on Oreo cookies. For a long time now I thought it would be fun to compare all the Oreo cookies I could get my hands on. This idea first came to me while I was at target (like most grand ideas). Target usually has a ridiculously large selection of Oreos. I thought to myself, I love Oreo cookies, why not try all the flavors and then share my experience and favorite flavors with all of you! That's what blogs are for, are they not?
*WARNING* I might gain a million pounds while conducting this study, but folks, I'm willing to take one for the team!
While I was on bed rest I would crave Oreos. I'm reluctant to say "crave" because if I didn't have one, I wouldn't get crazy or DIE but if I could have one (everyday) I would. I think now more then ever is the best time for me to sample dozens and dozens of cookies. I'm exclusively breastfeeding James...so a few extra calories won't hurt, or is it exclusively breastmilk? My body is his only nourishment, how about that.:)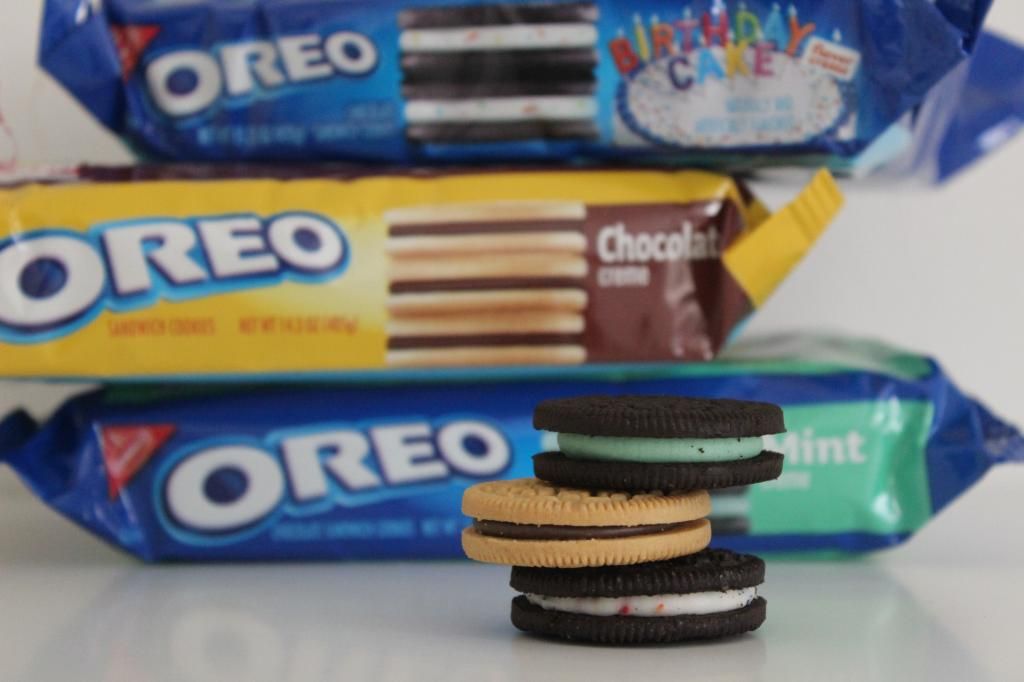 I initially thought to I'd buy every flavor and take it from there but then I realized...you know Oreo coma, so instead I'm going to do 1-2 flavors at a time. This first time I'm doing 3 because I couldn't choose between two. Libra problems. The first 3 I tried were ... MINT, REVERSED: Chocolate creme and vanilla cookie, and Birthday Cake.
Lets start with Mint: Mints filling was like a double stuffed oreo, so much creme. The mint taste wasn't overwhelming but you could taste the mint. Tasted a little like mint chip. I think they put more creme so you can get a better taste of the mint. Out of the 3 this was my second choice. The creme was really soft, which I liked. But overall, these get a sideways thumb.
Next is Chocolate creme with a vanilla cookie: This was my favorite!! I wasn't sure if I was going to like the vanilla cookie but it was vanilla tasting, it just tasted like a white cookie and wasn't overpowering. The chocolate creme was so soft and silky. The best part, they weren't too sweet. They were perfect. THUMBS UP!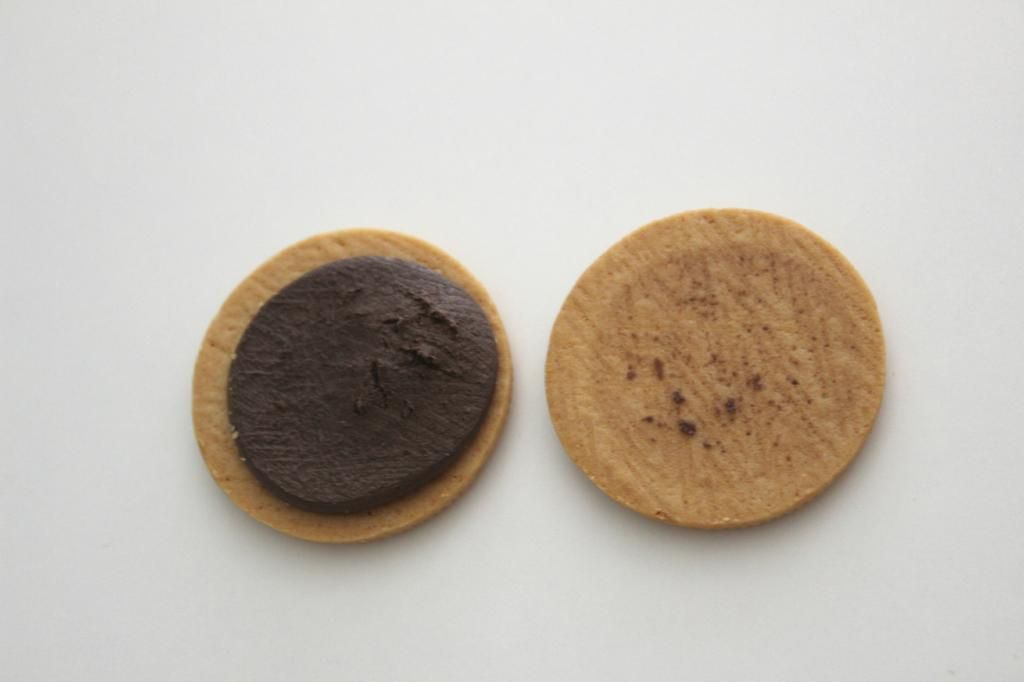 Last is Birthday Cake: My least favorite, but, I was most excited to try. I had been eyeing birthday cake for so long. When my birthday came around in September I told Jerry, "I'm getting these!"
After trying them tho, my first thought was, they are just too sweet. The sprinkles were just too much. The only difference was the sprinkles. Maybe because the other two cookies were very different and these just had something added. I might be a little hard on these Birthday Cake cookies but that's the way the cookie crumbles (see what I did there). So these are a thumbs down, but I'm glad I tried them. Well folks, that's it, my first 3 comparisons. I'm already working on part two…Halloween Edition!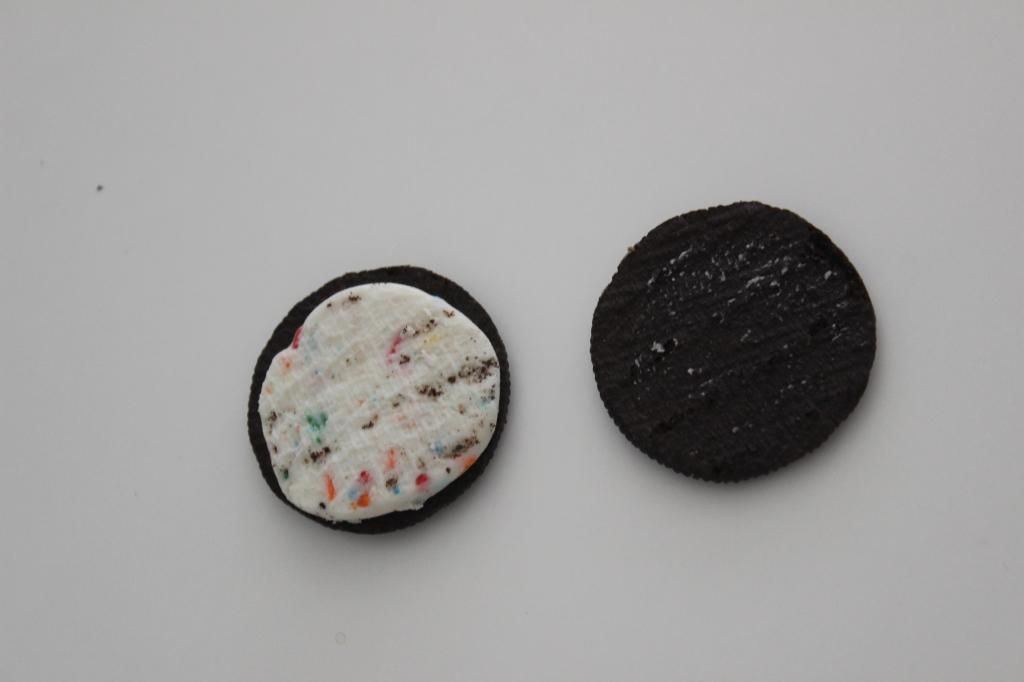 Just a sidenote: These posts are NOT sponsored by Oreo cookie. I just went on quest to try every Oreo cookie and gain a million pounds! :)