We had a little (big) birthday party for Ardo on Saturday. I was stressed for the whole month, well probably two months, but when the month of April hit, I was on it. I tried my very best not to wait to the last minute and I did a pretty good job. I was so happy with how everything turned out and Ardo was so so happy! We didn't have a birthday last year because Jerry wasn't home (remember those 6 months he was in North Dakota) and this year I was determined because this is his last birthday as an only child and I thought it was very important. Ardo turned 3 this year, and we got him a big ole jumper. He loved the slide and he had about 5 cake pops! He never has that many sweets.
It rained the night before and I wanted to CRY. Everyone kept telling me it would only rain tonight and by the next day it would stop. I just wasn't sure once the rain came down. I went to bed at 12
am
Friday night and the rain was still going. About 4 am I woke up to use the bathroom and STILL the rain was coming down. At 7am I was woken up by a hungry Ardo and when I opened my eyes I heard the birds chirping and saw the sun shining through. I was so relieved!! When we got to the park at 11 even the grass was dry. It was great weather…a little windy but I would take a little breeze over rain anyway!! Now onto our party!
Our dessert table is the kissing booth we used for our
baby announcement
and I made the burlap skirt with a rotary cutter and burlap. Our desserts were made by Julie, and she had the little boxes for the cake pops. I borrowed
Laura's
tree plates to put our cupcakes on and the tree bowls and #3 are from
Save On Crafts
. When I came across the tree bowls and #3 they were PERFECT and for the prices I almost got more, it's one of my new favorite websites!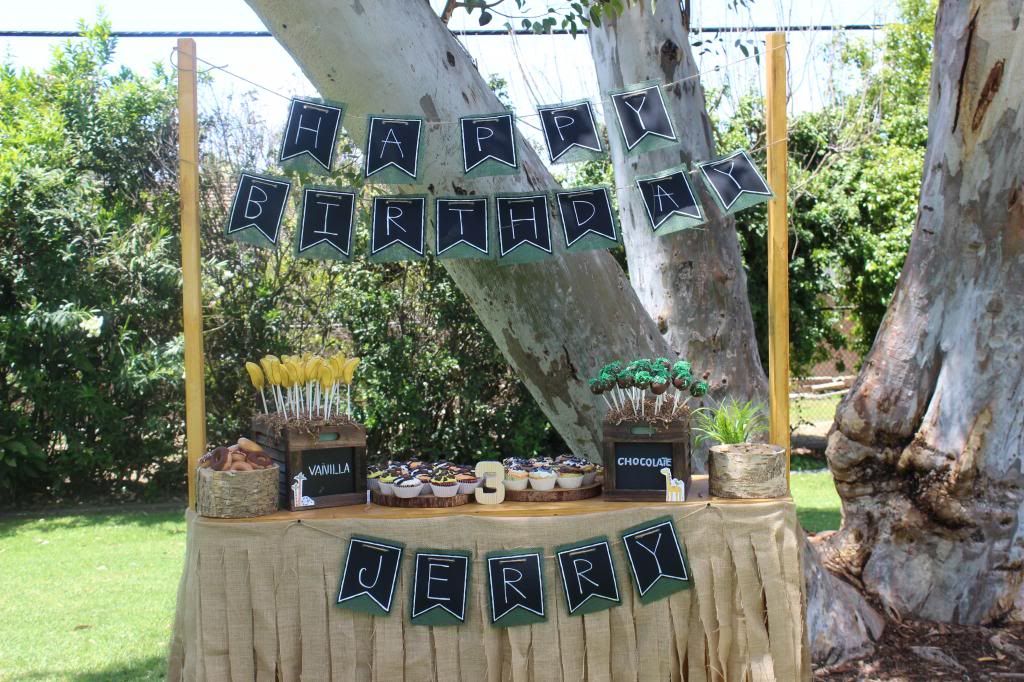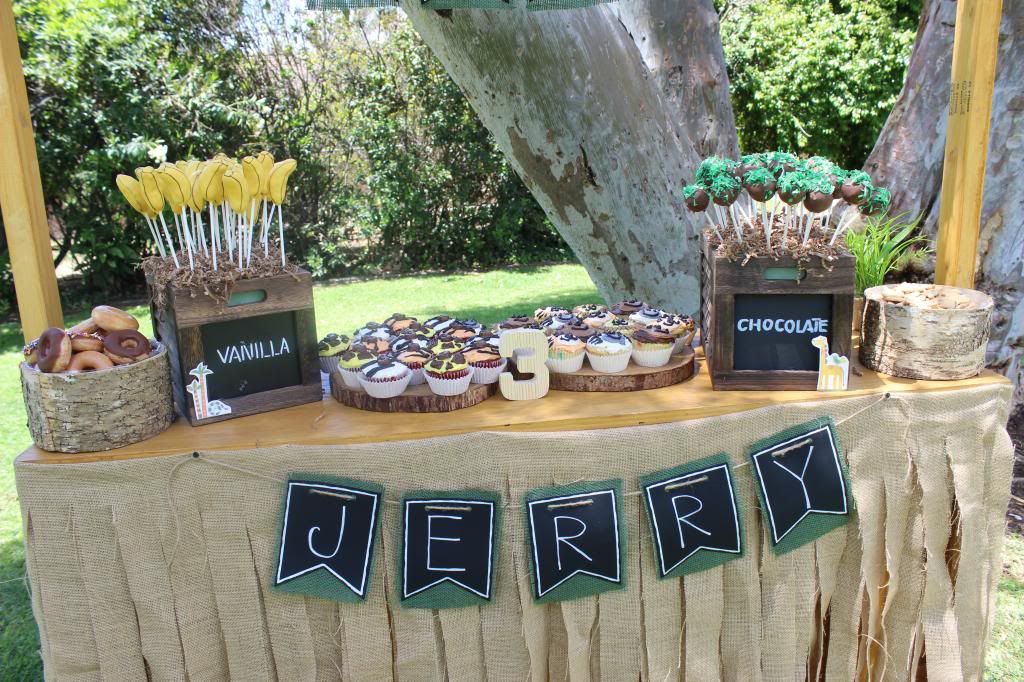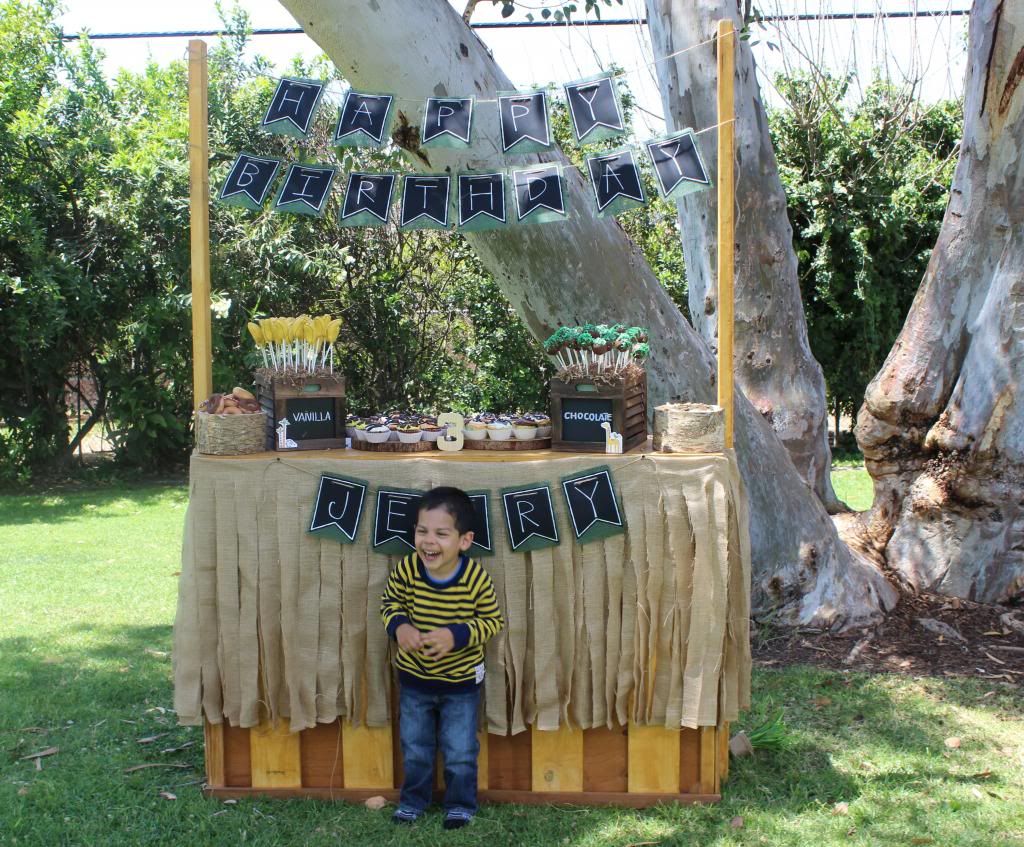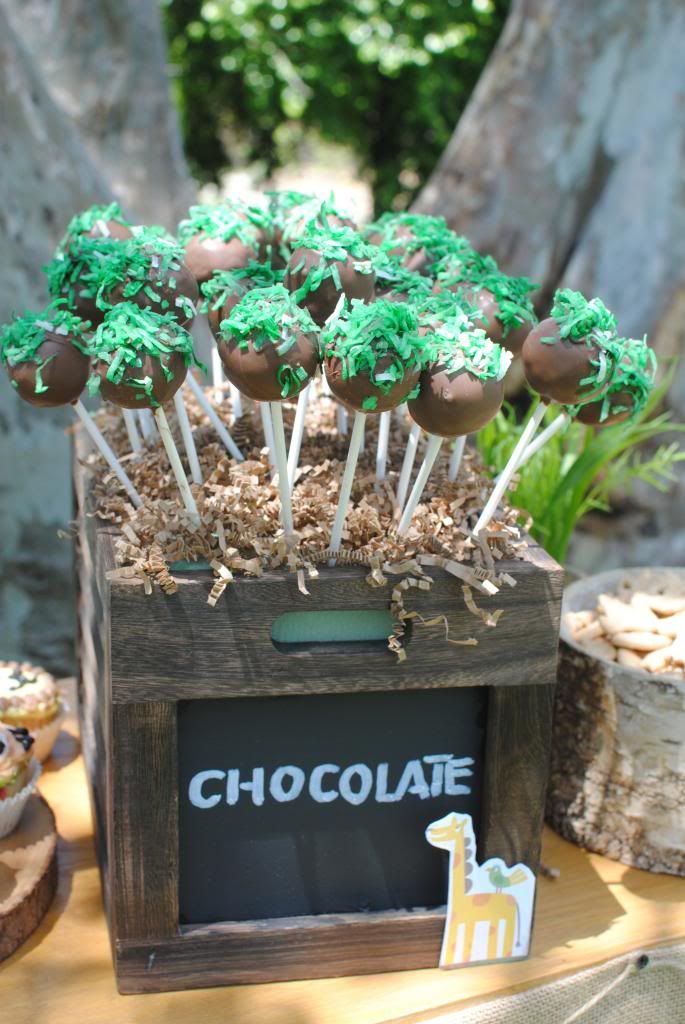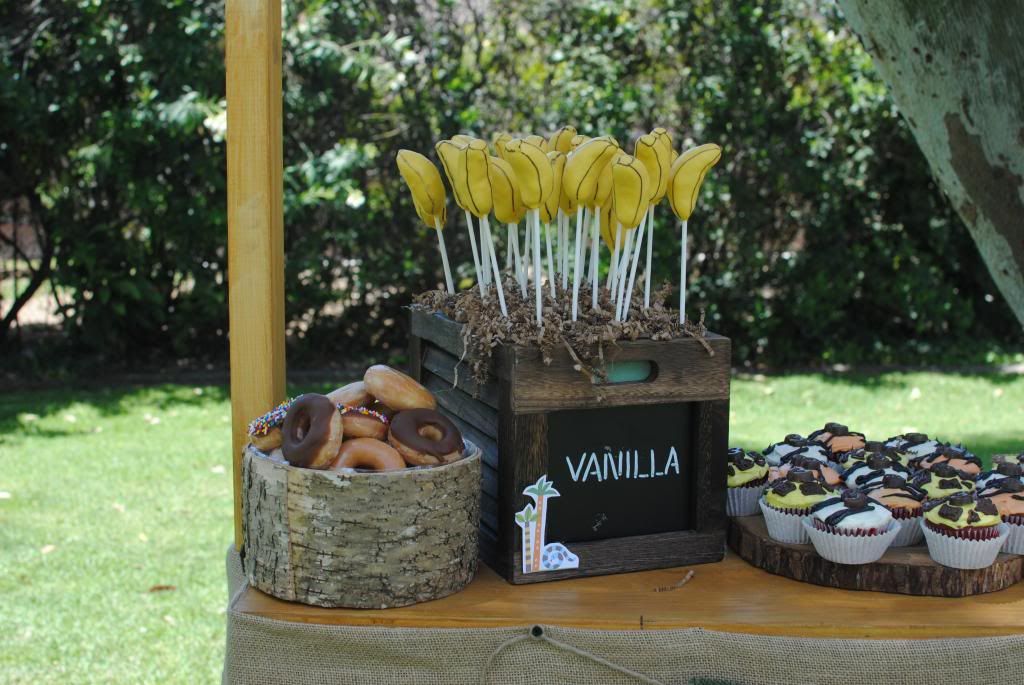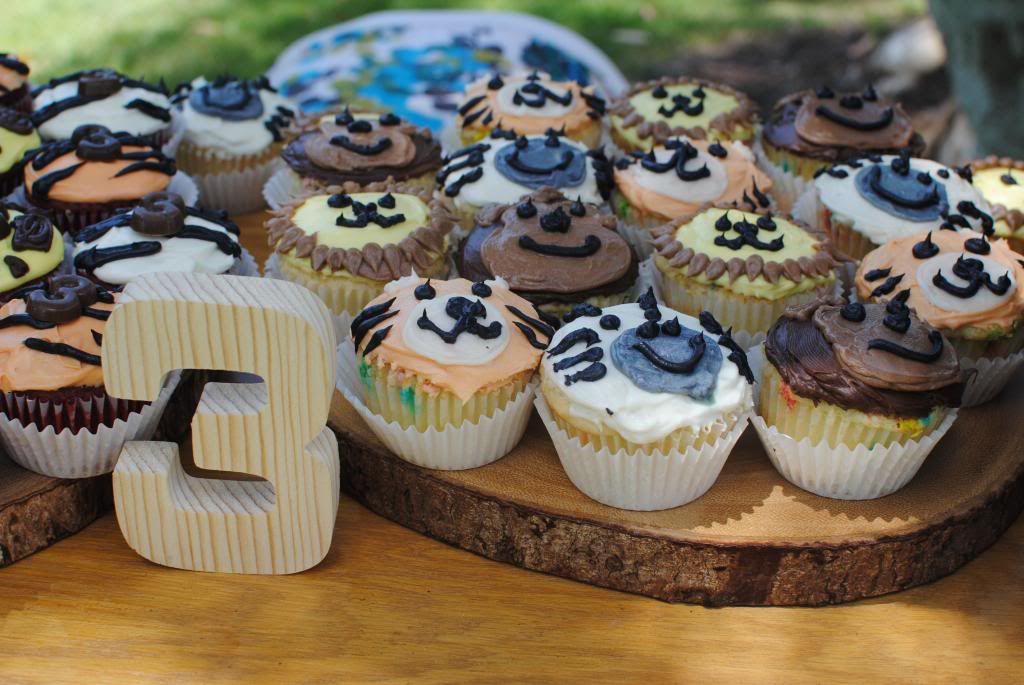 Our
giant safari animals
were a hit at the party! From the very beginning I told Jerry his main job was to figure out a way for safari animals to not fall! They came with such a flimsy back I just knew the wind would take them right over. Thankfully Jerry and his dad found a way. They used velcro and wood in the back of the animals along with a stake to use in the dirt. They hammered them in and only the giraffe leaned a little once, but other than that they stayed straight up! Every time someone took a picture with them, my heart was happy!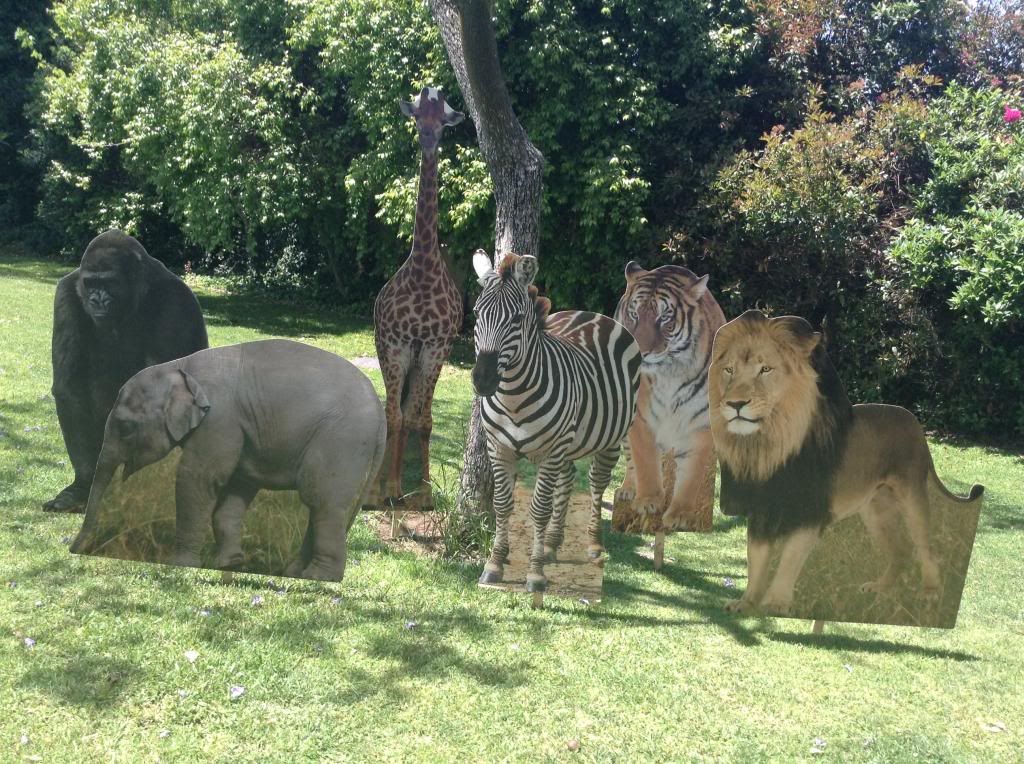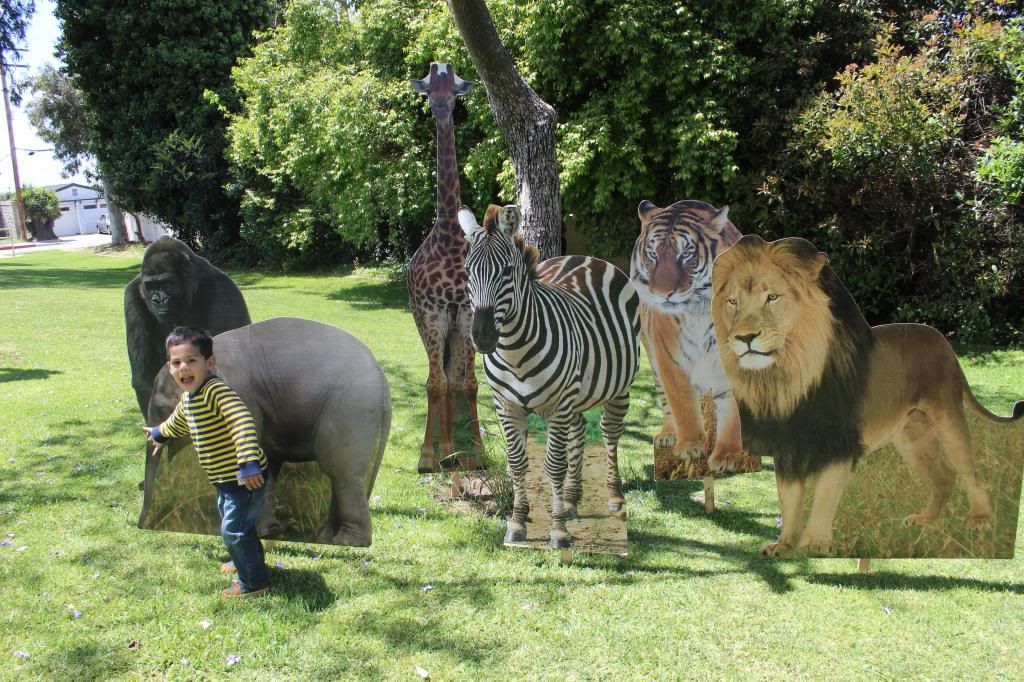 I couldn't decide exactly how I wanted the centerpieces, it was a few different ideas together. We use velcro for the bottom of the animals because I wanted to make sure they stayed on. My mom found the plants at Michaels and when she texted me they were perfect, so she cleaned them out. A few days later Jerry and I were on another Michaels run and we came across the animals. They were a little pricey but they were exactly what I was looking for when I wanted an animal/plant centerpiece.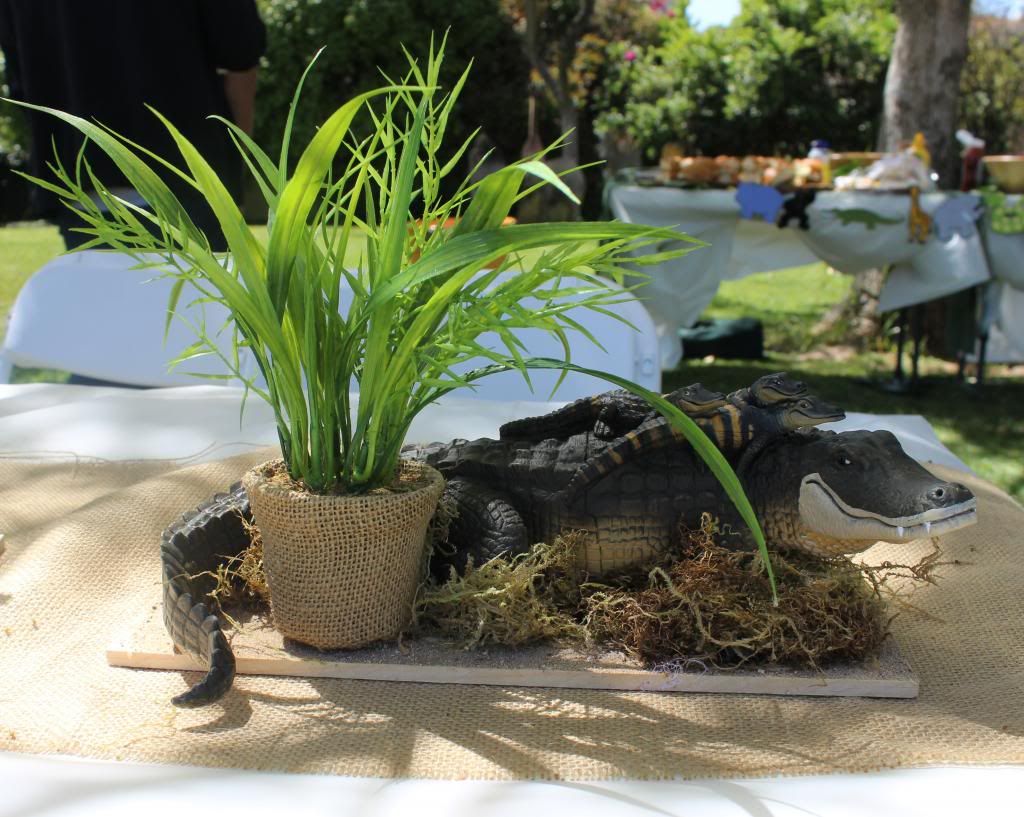 I wanted animals everywhere and that meant the food table too. My sister Marcy (and Ardo's nina) put together our animal banner, she always helps me, I love her.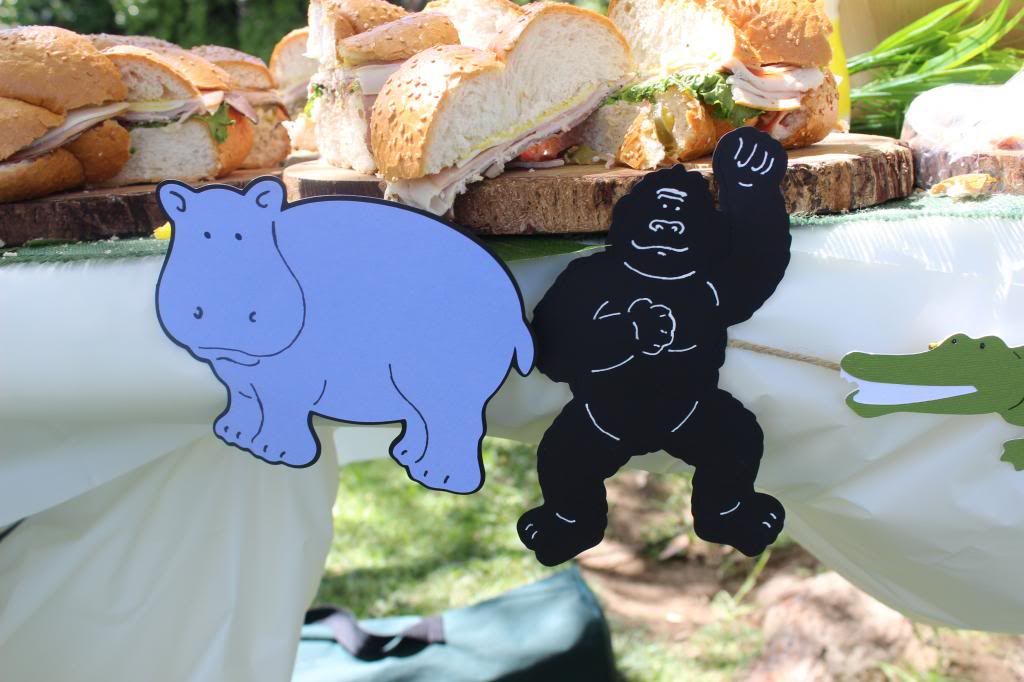 Our goodies for the kids. We gave each child a safari hat, a little burlap bag with candy and a few animals, an animal mask and little binoculars. Jerry made the binoculars. I showed him
this tutorial
and he made a very similar version. He was really proud, I was telling everyone Jerry made the binoculars, a good crafty husband needs credit too. I was asked if I made the
animals masks
. I would say "well I put them together if that counts?" It counts for something right?!?!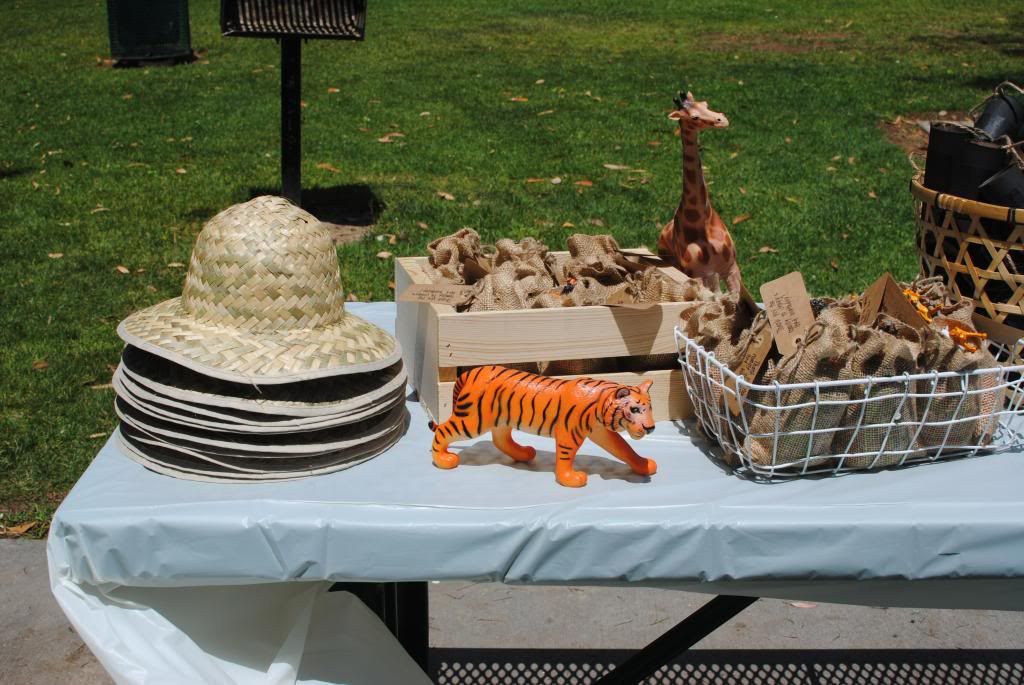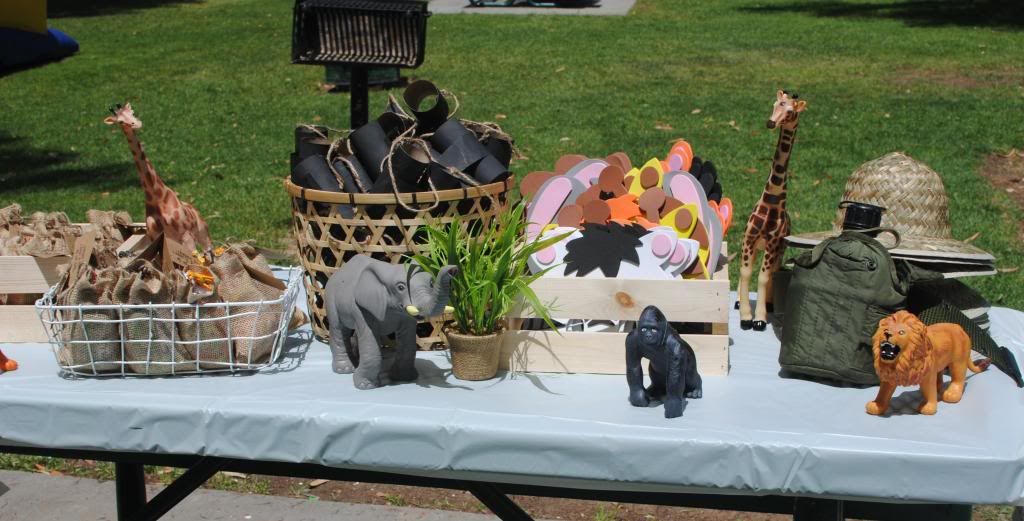 Our fruit hippo was made by Auntie Mai. I just loved it!!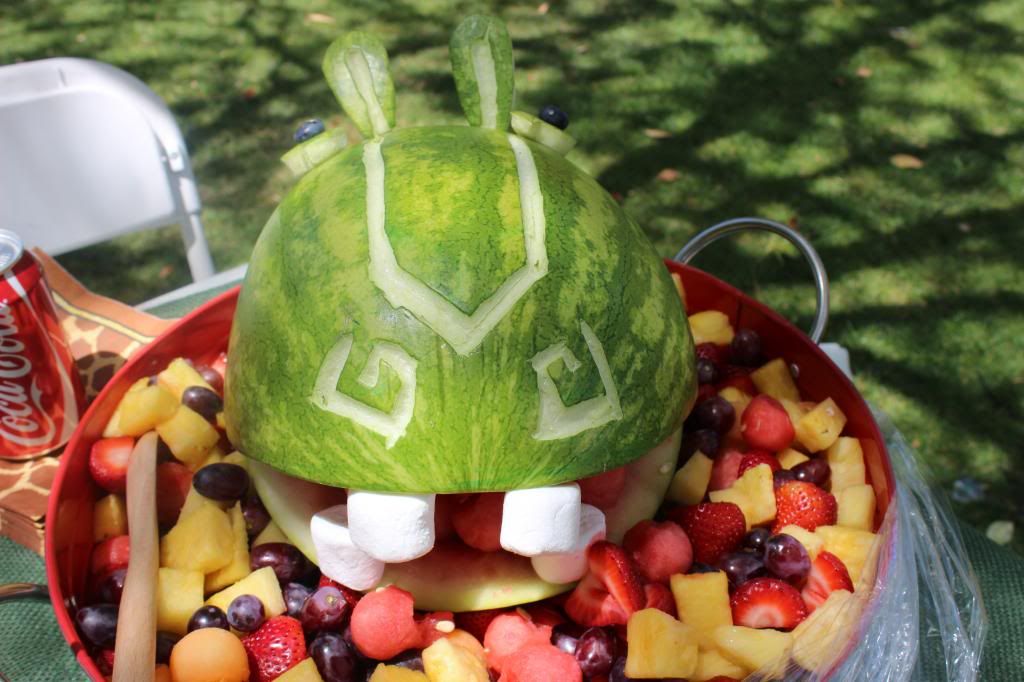 A family picture with the animals!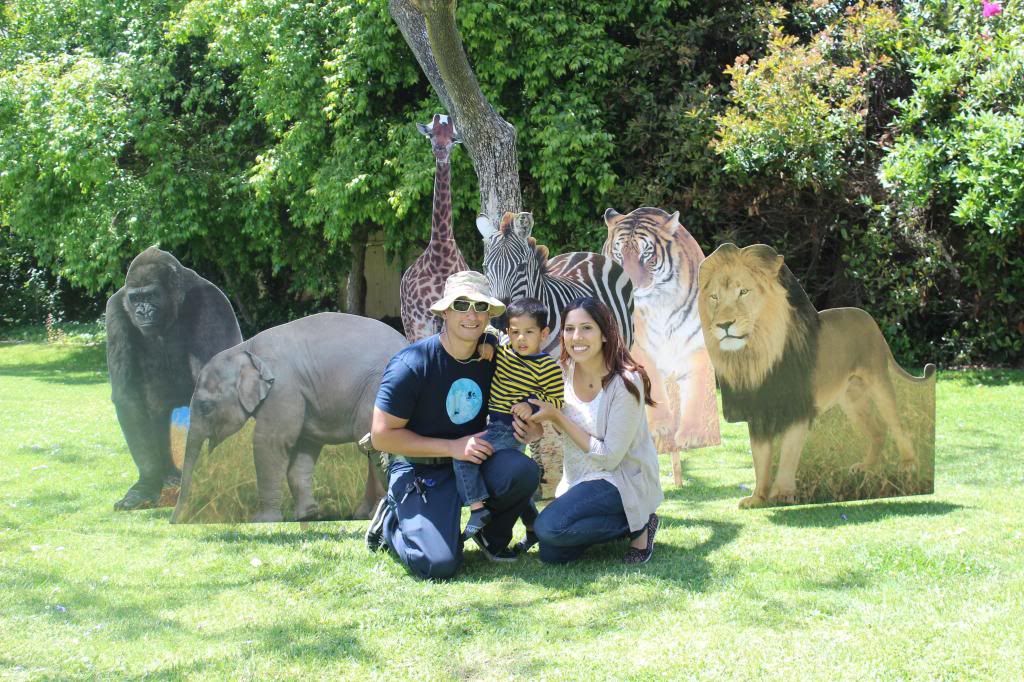 Where Ardo was most of the day, if he wasn't at the dessert table!
He had such an awesome party, it was worth every second of stress!
*I've mentioned this before but because our little guy is the III we call him Ardo at home and on this blog, but for events and christmas cards I just go by Jerry. Honestly tho he has about 10 thousands nicknames