I'm so excited because we are having a pajama New Years Eve party.
This year I wanted two things.
1. I wanted to let Ardo stay up as long as he wanted.
2. I wanted a low key night.
Jerry's mom sent us a text asking if we wanted to join them for a pajama party. I immediately said yes and there you have it. Pajama party tonight.
I don't know how I feel about leaving 2013 behind. I know the losses I experienced this year was probably the hardest of my entire life. My Granny, whom I miss everyday. The only difference with my granny is she lived a long life. I was able to enjoy her so much of my adult life that I'll forever be grateful. She was able to have a relationship with Ardo and seeing my granny as a great grandma was so fulfilling. My boss Vern (whom I lost suddenly in April) was much different. I'm still trying little by little to be okay with the thought that you could wish someone a goodbye on a Friday and tell them you'll see them Monday but you never see them again. Even writing those thoughts out I can't help but feel sad and a little mad on how unexpected life can be. And how the only thing you can do is move forward because...what choice do you have? 2013 was also the year that Jerry and I were separated for the first time. Remember those 6 months he spent in North Dakota?!?! That feels like a lifetime ago.
2013 had some great points too.
Jerry and I got married in our gorgeous Mexican Fiesta August wedding. Married life I have to say is exactly the same as before we said our I do's. I still yell at him when he doesn't take out the trash. I will say tho that nothing feels better than calling him my husband. Not baby-daddy, not fiancee, Husband is so very official.
My moms health is top notch and we love that lady so that's really important. Jerry and I are hoping to expand our family in 2014 and our little Ardo really wants a baby. He doesn't quite understand what it all means and that once I have a baby they will stay with us forever and ever, but he just knows he wants a baby.
All in all, I'm happy. So come on 2014 we're ready for you!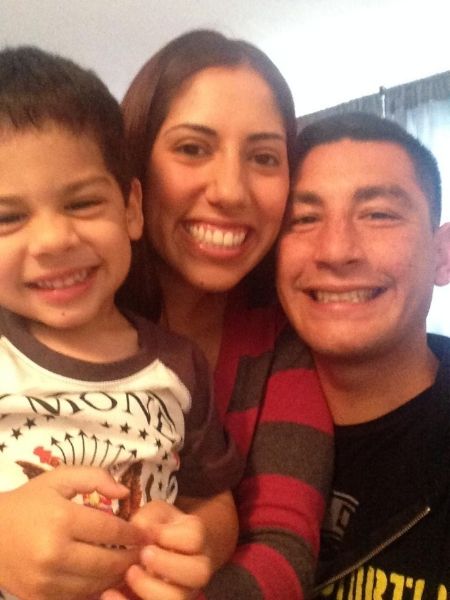 A little grainy family selfie, but I love this picture. We're all tired and all happy!
Happy New Year!