As I didn't share as much of my wedding here on the blog as I had originally hoped (but I kinda explained with
this post
) there are a couple of things I'd still really like to share, mainly because I love them so very much.
The first of which is my dessert table. I looked all over pinterest for inspiration when it came to my dessert table. I knew I wanted all kinds of different mexican desserts. I wanted everything to fit into the theme. So Pan Dulce was the only way to go. I chose my absolute favorite bakery
El Gallo
that I've been going to since I was a kid. I really wanted mini pan dulce and because I was ordering sooo many, they had no problem making them for me. I know some people are crazy for wedding cake, but me...not so much. I notice sometimes at parties with cake, a lot gets wasted. Mini desserts seem to go over well because people can have just a taste and they are satisfied. I did want one dessert that didn't necessarily fit our theme, but I couldn't do without. Mini cupcakes! I really wanted a churro flavored cupcake. I went to a few different bakeries, but for some reason they all seemed so dry. I turned to
Sprinkles
and they have a cinnamon sugar cupcake, one bite and I was in heaven! SIDENOTE: I chose a blue donkey candy for the cinnamon sugar and I just want to warn you the candy will leave your entire mouth completely BLUE! I was a bride walking around with a blue month for at least an hour!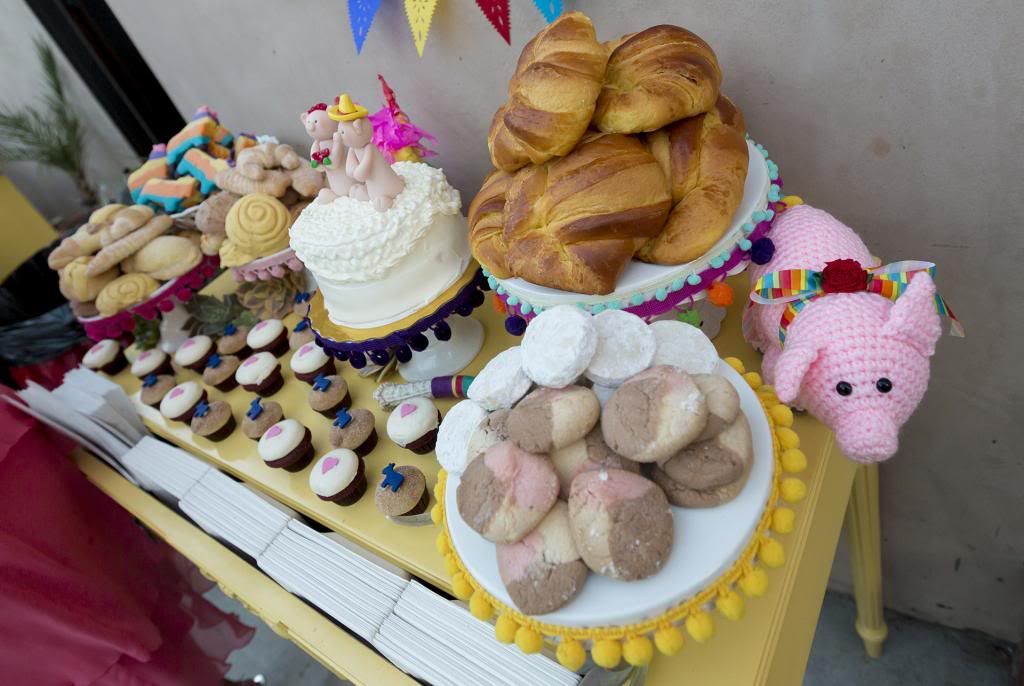 Laura
decorated her cake stands and she had a wonderful vision for the background...as many papel picado flags as she could. The desk/dresser our desserts are on actually belong to Jerry's parents. They had used it forever as a TV stand, but I saw such potential. We painted it yellow and when Laura saw it, she said it was perfect! Our cake toppers was one of my favorite things (it's to hard to pick a favorite, because I loved our dessert table to much) as I've said here time and time again I am a pig collector and just all around pig lover. I always knew I wanted pig wedding cake toppers for my wedding. When it came down to finding the perfect ones, I of course turned to etsy. I immediately found the perfect style that went with our fiesta themed wedding. We decided on these
little guys
from
HeartShaped Creations
. Maria was pleasure to work with, responded so quickly to my emails and just really wanted to make whatever vision I had. I customized the color and instead of a top hat Maria made the boy pig with a little sombrero. It was absolutely PERFECT! They are sitting in our kitchen right now and I honestly hope I can keep them forever.
Laura honestly made my dessert dreams come true, I had no idea how should put everything together and when I arrived at my reception, I couldn't believe what an incredible job she had done...I love that girl!