I think....I think I've turned into one of those people. You know those people who are waiting for the perfect time to have a child or in my case another child? I think that's me. After I had Ardo I originally thought to wait a couple of years (like my mom did) then revisit the baby world. Between then, Jerry was state-side deployed, and I had a wedding to plan. Great reasons to hold off on having a new boo.
1. I very well couldn't have a baby without Jerry being home.
2. Once we decided on all of the details for our wedding, I wanted to wait.
But now, now, I don't know what I'm waiting for. Ardo is getting to be such a big boy, okay well he's only 2 1/2 but you know when your toddler
knows
things, they seem so much older. I have some fears, I mean labor alone is fear enough in itself. I've never told my birth story here and I'm not sure I ever would. My birth story was no fairy tale. I've read so many mommy blogs that have amazing incredible birth stories, and mine was a little different. I had a natural childbirth (natural I mean no pain meds)on pitocin, so I gladly call myself super woman sometimes. But I don't know if it's something that obvious. Maybe I'm just chicken. Maybe the biggest thing that is throwing me for a loop is Jerry. Jerry is 100% completely ready for baby #2. I feel like normally the roles are reversed, at least for us, but not this time. Ardo is going to be a great big brother, he just loves babies. Of course he'll probably torture his sibling since I just gave him credit. I have a feeling I'm just over thinking this and letting my mind run wild, but sometimes you have to let it out to feel better. Also looking at sweet baby pictures of Ardo is also making me feel better! :)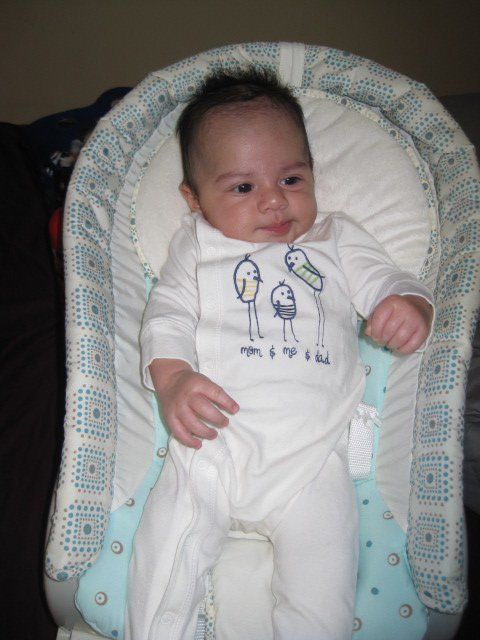 Ardo 4 months