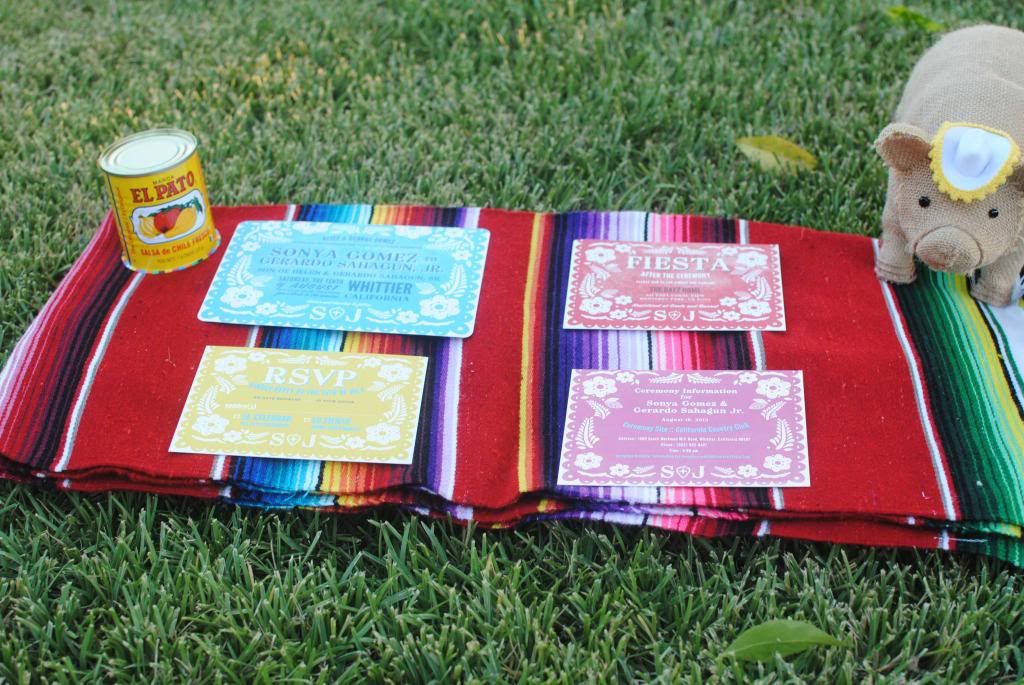 From almost the very beginning I decided my theme for my wedding was going to be a Mexican Fiesta. I'm Mexican so you know, it works. Actually the real reason is because I always envisioned a lot of color in my wedding. I knew from the beginning the classic wedding style wasn't really
my
style. I mean, I had a baby before we got married, I play by my own rules! After the theme was decided, everything else came to follow. The first of which were the invitations. My great friend
Laura
helped me in every avenue of our wedding. I really didn't make too many decisions without her input. I looked at several ideas and weighing lots of options, I decided on invitations. After our sweet save the date, I wanted the invitations to be just as colorful and really show off our theme, of a Mexican Fiesta.
Minted
made it really easy, not only was the design exactly what I was looking for, but inputting your information and getting a preview is right at your fingertips. I must have read the invitations a million times. "Did I spell my name right? and Jerry's" "Are my parents names correct?" "Is the reception address correct?" I read them over and over and over again. When I was sure they were exactly how I wanted them, I pressed order and they were printed. I stuffed them, mailed them, and off they went. In one day my cousin had already received hers, then my mom called me and the convo went something like this ::
Mom: Tracy called and she already got her invite
Me: oh great! So glad she got it!
Mom: She had one question tho?
Me: What?
Mom: Well, she couldn't find where the ceremony information was, she saw it starts at 5pm, but where was it?
Me: WHAT?!?!?! No it's on there...right?
Mom: No Sonya, you forgot to put the address of the ceremony, it only has the city. But she said they were super cute!
Me: WHAT!?!?!?! Holy Mother---(I'm sure you can guess what came next, there was alot of F words)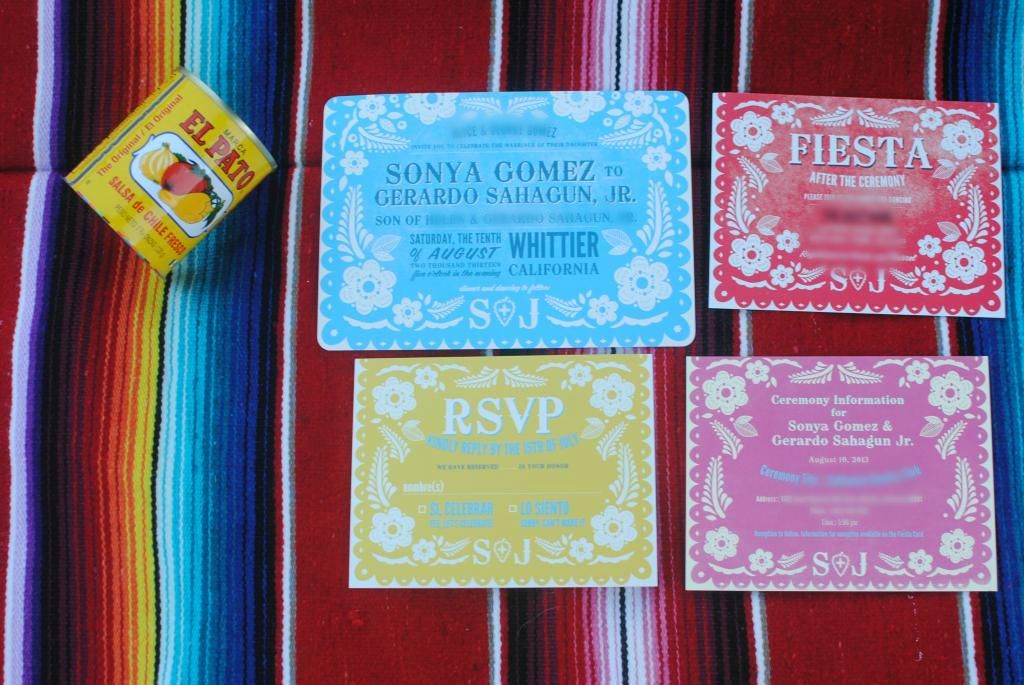 See the invitations had 4 parts, A main card announcing who was getting married and just fill in information, a fiesta card for the reception, an rsvp and then a directions card with additional information. I figured we didn't need a direction and (in an effort to save a few bucks) I condensed everything into 3 cards. However when I did that, I left out the ceremony information, sure, people had the city and time but the WHERE? Well, the where, was a mystery. I was mortified!! Not only did I make this huge mistake and confused all our family and friends, I worried I wouldn't be able to fix it in time and no one would show up!! And if that's what you want, great, but I really wanted to be with my family and friends. As if I didn't have enough to be freaked out over I added one more thing to my list. And it was a big one! What choice did we have? I had to order a separate card just for the ceremony information. I then started texting and just telling friends and family to tell their parents or other friends how I goofed and that everyone was invited to the ceremony. Ugh, but this post was to share my wedding invitations, so on to the sharing. I'm still in love, they were just the bomb.com.
| | |
| --- | --- |
| | |
and the card they gave me a heart attack, but still came out great.
Little trick I got from a staff member at minted. I wanted matching envelopes, because I always find it so hard to find the right size envelopes. The person at minted suggested I order RSVP cards but just re-style them to what I need. SO I did, and not only did they come with the envelopes, they were also less expensive than the direction cards, I'm not sure why, but Ill take it!