oh my sweet sweet Ardo. On April 25th he officially turned two years old. This birthday was a lot different from last year. I decided to not have a birthday party. Jerry and I had decided early on, this year we would go to Disneyland. Then Jerry had to go to North Dakota so I wasn't sure, if I should go ahead with a small party or what the heck to do. Once we we're positive that Daddy was going to be Ardo's birthday gift, our Disneyland plans were full steam ahead. Thursday morning we woke up bright and early and headed to my moms house. We made Ardo little pancakes and started his breakfast with happy birthday pankcakes. I could tell Ardo was a little confused as to why I allowed him so close to fire, but he spit, I mean blew out the candles and then clapped, cause he's so always proud of himself.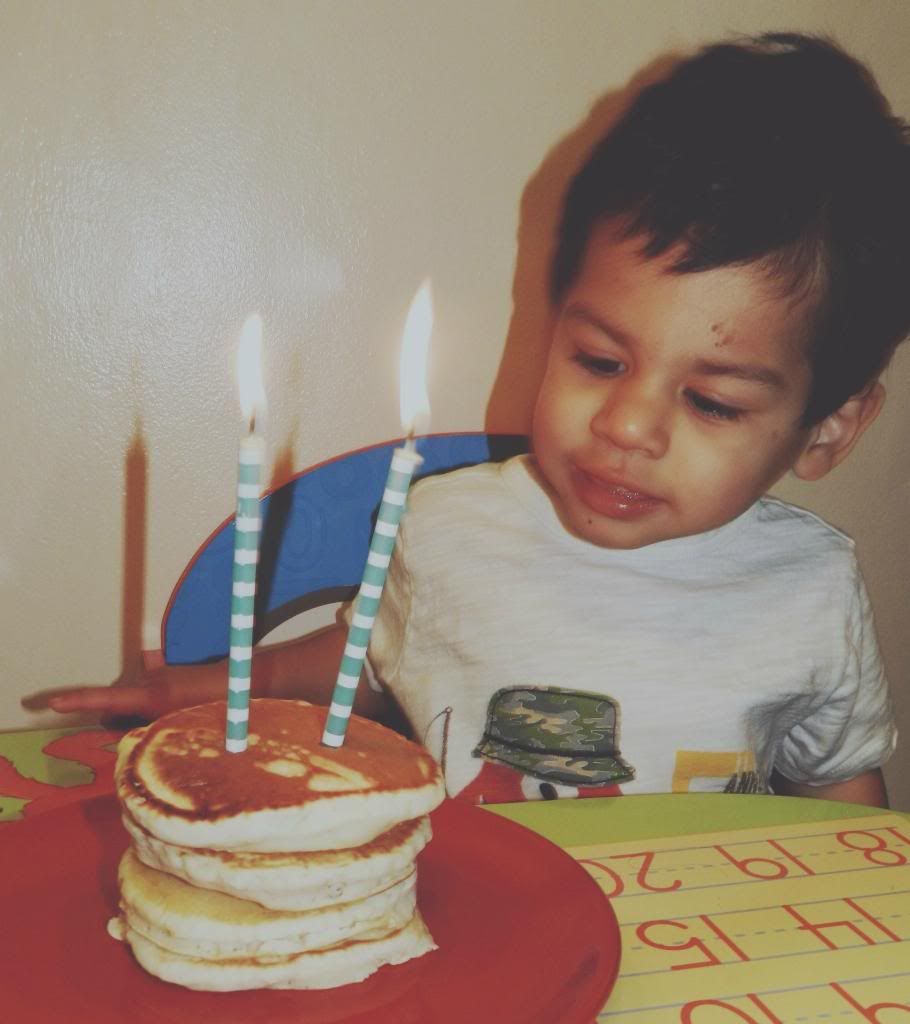 We went back to our small apartment and got ready for his little cake with abues and papa (Jerrys parents) and some aunts and uncles, and little cousins too. I was so proud of myself, because I made a little 2 layer cake for Ardo all by myself. I was going to make a small cake but then I decided to try and make a two layer, you know to spruce it up a bit. I made things as easy as possible. I bought a boxed vanilla cake, the little candies from Michaels, and some orange sprinkles. I use cool whip for the frosting because cool whip is so much easier to use than the other frosting and I had food coloring left over. There you have it, a green cake with little animals.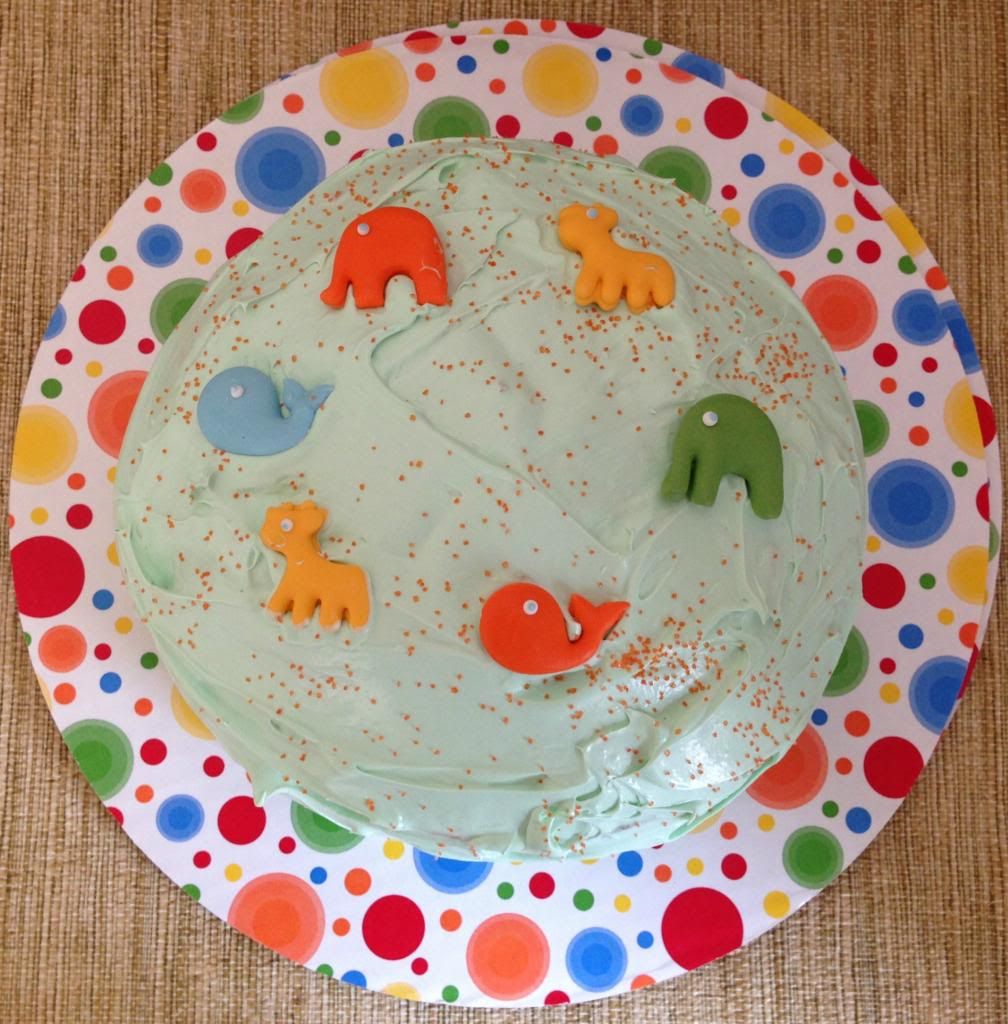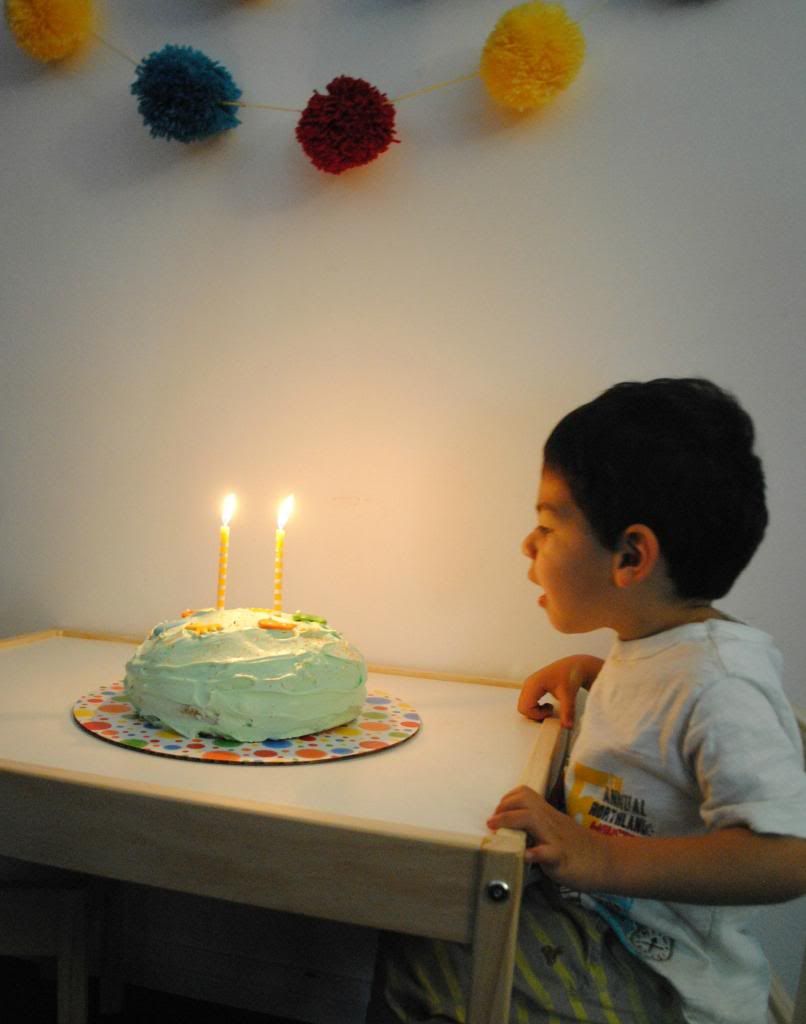 I started to get very excited at about 7:30pm. Jerry's flight arrived at 8:55pm and I was just ready for him to be home. I'm not sure if I mentioned that Jerry made me promise not to tell Ardo he was coming home. I didn't tell him and I tried to explain to Jerry that Ardo really doesn't understand, but he wasn't having any of that. So I got Ardo ready for bed, loaded him up in the car and we went to get Daddy. Ardo was half asleep half awake when Jerry got in the car but even still he was so excited, for 15 minutes til he fell back asleep. I took Jerry straight to In-N-Out. Ardo woke up the next morning as if Jerry had never left. He said "hi, dada" and that was it, theeen we got ready for Disneyland!